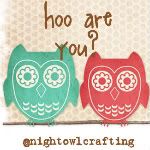 Here are this weeks Hoo are you Question for this week...
1. Do you have any siblings?

3. Are you a morning or night person?
Def a night person! I work a grave shift 3-4 days a week but have always been unable to sleep at night...
4.Are you organized or spontaneous?
I would say a little bit of each. As I get older it seems I become more and more organized. I also think having my son with Aspergers has really made me more of a planner. But I still cherish spontanity!
5. What is your typical 4th of July like? Laid back at home? Community celebrations? etc...?
We wake up and go to the morning parade and walk in it all dressed up in our 4th outfits. And pull along our decorated wagon. Then we go over to the carnival and play some fun games. We usually eat lunch out. Then we head home and start decorating and getting ready for our family BBQ. We then have Hubby's fam over (usually over 50 people) for our BBQ. Then we watch the Town's fireworks from our yard. They are super close. Then light of our own. It's one of my fave days of the year! So excited!!!