Gosh I am so sorry I haven't been posting much lately... I have 2 more weeks of summer left with Maddie so we are really trying to get the most out of them! But I did want to play my favorite bloggy game of the week!
It's Hoo Are You hosted by Night Owl Crafting...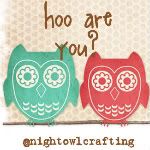 Here are these weeks questions...

1. What is your natural hair color?
Kind of a darker blond color

2. Which do you prefer, sunrises or sunsets?
Def Sunsets. I hate waking up early so Sunrises are a no go for me!
3. What is the first thing you notice about people?
Probably their faces in general. Smiles and eyes and such!

4. Do you prefer talking or texting on your cell phone?
Definately talking! I think texting can be misinterpreted easily...

5. What size of shoes do you wear?
8 or 8 1/2 depending on the shoe.